the Garhwal English Medium School Turns six! Our original 13 then and now.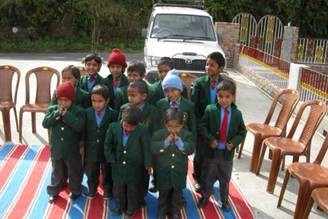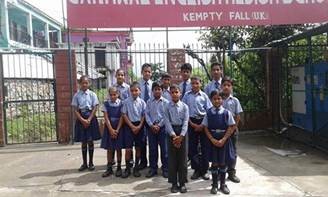 The photograph on top shows our first 13 students, how they looked a few weeks after we opened, and the second shows how they look now. They have come so far, and we are so very proud of them. When we started we offered classes Kindergarten to class 3. Our oldest 3 boys are now studying in class 9. I am so proud of all of our students, but I will always have a special place in my heart for my 'first the Garhwal English Medium School'. How far we have come. We have seen many teachers come and go, but a few have stayed – in particular, Neelam Chauhan who has been with me from the beginning. What an amazing teacher she is today. And we have had so many volunteers who have helped in so many different ways, and who have remained friends of the Garhwal English Medium School long after they have departed. Well the Garhwal English Medium School will turn six years old on December 1st. Six years ago we began with 13 children. We never expected to grow as fast as we have, and it is difficult to manage such a large school – 210 students now. But somewhere in our outer world there is a higher power watching over us, who gently nudges us along. We continue to implement different methods to make learning fun and challenging. Just see what we have been up to these past months!
From Sainji to England!
This was a first for Neelam and Virendra, two of our best teachers at the Garhwal English Medium School, as they were selected to travel to Manchester England to spend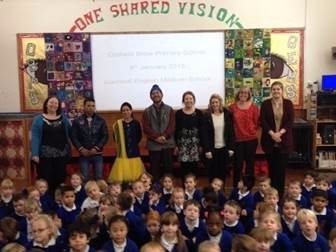 two weeks immersed in Oldfield Brow's classrooms. Oldfield Brow is our partner school. We are sponsored by the British Council which allows us to exchange teachers, and ideas. Our partnership has become so much more. Ours has become a true lifelong friendship. Neelam, Virendra and Kunwar boarded a plane on December 31st, and spent two weeks with Robert Merrell (head teacher of OFB) and his family. Every day they found themselves in different classrooms, observing and taking part in the activities of the day. And they shared their ideas and skills as well. Neelam spent countless hours and packages of Henna decorating children's hands with beautiful Indian designs and Virendra taught children how to cut up old bicycle tubes to make 'Tapli' a game much like 'Hakki Sak'. They spoke to the children about their villages in India, of the culture and taught them some new Jounpuri words. They shared letters and gifts handcrafted by our the Garhwal English Medium School students for their new found friends across the lands. Friendships which had already been formed the year before were solidified. Neelam and Virendra returned to the Garhwal English Medium School and shared their experiences with all of us. Everything had been a first for them, including the flight, but more than anything they came back excited and ready to share their new teaching skills with all of us. Today, I peek in on their classes to see teachers animated, and children engaged, and I say a silent thank you to Oldfield Brow for all they have done for us at the Garhwal English Medium School.
the Garhwal English Medium School High School
In April we welcomed over 30 new little the Garhwal English Medium School. Our numbers soared to 200 students, and we began our long anticipated the Garhwal English Medium School High School. Yes, we added class 9, which consists of five students, Sudesh, Akshay, Aman, Navneet and Digumber – the 'leaders of the pack; lords of the sky, …' Next year they will move into class 10 and then will have to write the government board exam.
Science Day!
The focus this year was on renewable resources, and our children were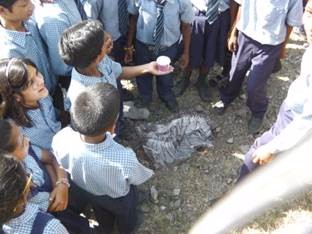 up for the challenge. We were astounded by their ingenuity. One groups showed us how to collect water from the ground using only plastic, a few rocks and the sun. Another showed us how to make a water mill; the third made solar cookers out of pizza boxes and the fourth demonstrated how colour affects the absorption of the sun's rays. It was a great day, and everyone learned a great deal!
A Visit from the Head teacher of Oldfield Brow and his family.
Once more we were blessed to have Robert Merrell and his wife, Rachel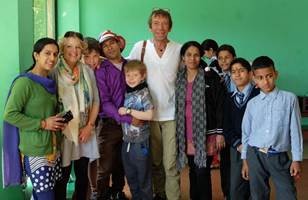 and sons Harry and Mathew join us in Sainji for two full weeks. While Harry and Mathew attended classes alongside our the Garhwal English Medium School students, Rachel, a class 3 teacher, and Bob, head teacher at OFB school visited our classrooms, taught us new methods for teaching, shared resources, conducted workshops…it was nonstop learning all the way round – and to think this is how they like to spend their vacation!
Ten Days with the Canadian International School
We hosted, for the first time, a group of 16 class 8 students from the Canadian International School, Bangalore. These students stayed with us in Sainji for ten days. Our the Garhwal English Medium School students, were their hosts and engaged them in several activities in the village including; nature walks; spreading manure on the fields followed by a swim in the Aglar River; grinding flour at the local water mill and preparing their own chapattis; basket weaving with pine needles; rope making and herding goats. Everyone appeared to have a great time.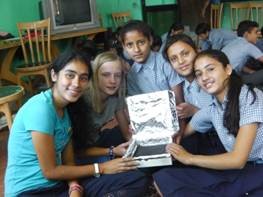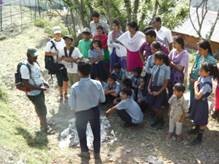 Teacher Workshops from Oldfield Brow
Despite the fact that it was our summer holiday, June was a busy month. We welcomed Katie and Amy, student teachers from Oldfield Brow School in Manchester. Amy and Katie spent one week with us, and hosted two days of workshops for our teachers, sharing many of their ideas, skills, and resources. They even set one classroom up as a model for teachers to draw ideas from in setting up their own classrooms. And in October, we were visited by Claire, Lisa and Karen. These three ladies put on workshops and visited classrooms. They even helped the Garhwal English Medium School develop a new song – "5,000 Miles". Watch for it on Youtube.
Engineering Day at the Garhwal English Medium School
Monsoon was upon us, but that did not stop our engineering students from California Poly Tech University in California from working diligently on the septic system for Sainji. This year they set a challenge for our students to build a bridge, using only sticks and minimal materials, which would be strong enough to support our beloved dog, Marley. Marley did not disappoint. He took his job very seriously and tested each and every bridge. Everyone was successful. Well done everyone! The engineers also set a task for our class 9 boys. The boys had to work alongside the engineers in the construction of the septic system, and at the same time ask questions and keep a journal, so they could in turn make a model and explain to their elders how the system works. Mission accomplished. Our boys did a brilliant job, and generated a lot of interest in the village for this project.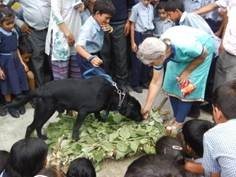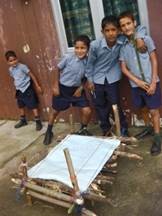 Spelling Competition
We have just completed a spelling competition. The children from class 1 to 9 were divided into their house colours (four teams) and each class was given 30 – 50 words which they had to learn the annunciation, spelling and be able to use them in sentences. Yellow team won the most points, but we think everyone was a winner. Our principal commented that on the morning before the competition, rather than playing before school, all the children were busy studying their books. I would say that was a great success. Well done teachers and students!
Volunteers:
We owe a great deal to our volunteers who continue to pour their heart and souls into the tasks they are given. Our volunteers share so many skills with our students, and our students benefit greatly. We are always complimented on how well our children communicate in English, how they are not shy to speak, and how engaged and interested they are in what they are learning. We have our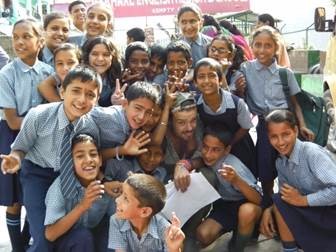 volunteers to thank for this. They put their lives on hold, and come here to Sainji to share as much of their skills as they can in a short period of time. Since January, we have hosted several people and wish to express our gratitude to each and everyone of them – Carol, Rod, Flo, Gary, Barry, Rob, Alex, Sarah, Zoey, Akshee, Diana, Mandy, Nick, Robbie, Tom, Charlie, Michele, and Aman. Tom was our first long term volunteer, followed by Rob. All of our volunteers have contributed hugely to our children's ongoing progress.
Thanks also to Jo for her one week photo journalism program. Our children learned how to use cameras and how to compose and build photo stories. It was a great activity and our children learned a great deal.
Last but not least, a big thanks to Paul Hamilton for his contribution and maintenance of our laptop computers. We have used these in so many ways, but most effectively as a resource in almost every subject.
If anyone is interested in joining our volunteer program, we welcome individuals of all ages, nationalities, and religions. You don't have to be a teacher on paper, only a teacher at heart.
Thanks for your support!
We have so many kind and generous friends who have sent donations throughout the year to support our the Garhwal English Medium School students. It is difficult to thank you individually in this letter, but you know who you are and what you did, and from us please accept a big thank you. There are a few individuals who have been significant supporters in ensuring the Garhwal English Medium School expenses are met each and every month.:
Sanjay Narang and the MARS Group, whose monthly contribution of our lunch time meal has meant that over 200 children receive at least one wholesome meal.
Dr. Guelk – Who continues to support generously throughout the year. We cannot thank you enough for your support.
Steve and Ameeta Alter – who have given generously and who are also supporting one of our girls for her education.
Barry VanVurren – Who has been helping with our teacher wages over the past two years. Thank you so much for your support.
Robert Merrell — A staunch supporter all round, through resources, time, workshops, funds, sponsorships, … and always just a good friend to us and the Garhwal English Medium School.
Girls Sponsorship Program:
Our girls' sponsorship program is in response to the relatively low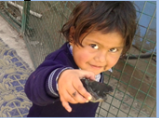 enrollment of girls compared to boys in our school. We charge a very small tuition and bus user fee to each of our students – 100 Rs for tuition and 100 Rs for bus – about $5.00 US per month, per child. But still many families do not feel it is necessary to invest even this amount into their girls' education. Instead they send them to the government schools, where teacher absenteeism is high, resources are low, methods follow the rote system and physical abuse is the norm. Hence, we would like to increase enrollment by offering free education to each of our girls. We have begun with our neediest girls first and are working our way through our current enrollments. To support one girl, the cost is $35.00 per month. This provides for her fees, bus fare, uniform, books, shoes and a percentage of the running costs of the school, thus providing all children with a better learning environment (including well trained teachers). The following girls are currently sponsored:
1. Ameesha (class 7) – Bob Merrell
2. Isha (class 7) – Rachel Merrell
3. Kajal (class 7) – Rachel Merrell
4. Sapna (class 6) – Bob Merrell
5. Mansi (class 6) – Jennifer Horton
6. Anjali (class 4) – Forest Valley School – Ottawa, Canada
7. Neha (class 4) – Forest Valley School – Ottawa Canada
8. Payal (class 4) – Forest Valley School – Ottawa Canada
9. Vansheeka (Kg) – Christine Nixon
10. Renusha (class 6) – Mandy Ross
11. Preeti (class 7)– Joie DeWolf
12. Aditi (class 3) – Gina Drew
13. Isha (class 3)— Steve and Ameeta Alter
14. Anjali (class 4) – Charu
15. Kajal (class 5) – Ariel Wong
16. Moneesha (class 3) – Varun Sajwan
17. Isha (class kg) – Varun Sajwan
18. Shivani – Varun Sajwan
19. Taneesha – Varun Sajwan
20. Taniya — Harry Merrel
21. Kanika – Tom Winton
22. Nikita – Tom Winton
For $35.00 U.S. a month, or $420.00 a year, you can sponsor a girl at the Garhwal English Medium School for her education. Your donation will provide her with books, a uniform (summer and winter), shoes, stationary supplies, transportation, a nutritious lunchtime meal, and pay a portion of the operation costs within the school.
In exchange, you may contact us at any time to check on your student's progress, visit our school, and exchange letters with your student. To find out more about the the Garhwal English Medium School girls sponsorship scheme please visit our dedicated page. Supporting a girl for her education not only offers her more choice, but will influence the future for all of her children and grandchildren to come.
You can find our contact information on our contact page. We use paypal, internet banking and/or you can deposit directly into our account using wire transfer.  To setup a subscription sponsership via paypal please visit click here.
…And there is more….
We at the Garhwal English Medium School are proud of the Jounpuri traditions. Our children learn to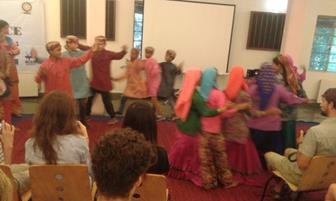 dance soon after begin to walk. Therefore, our children are all gifted dancers. We have been invited to several events where our dancers showcase their skills.
Clowns Without Borders Visits the Garhwal English Medium School
Recently we were amazed with the wonderful talents of the UK based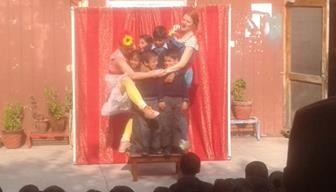 Clowns Without Borders. These talented individuals wowed all of our the Garhwal English Medium School children with their antics and tricks. We laughed and laughed until our bellies were sore. What a wonderful group!
Merry Christmas and Happy New Year!
Well that's it everyone! We hope you enjoyed catching up on what we have been doing at the Garhwal English Medium School. And we also hope that you will drop us a line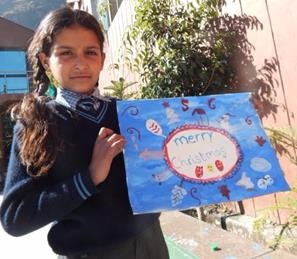 from time to time. Please feel free to contact us with any questions you may have, or with ideas of how the Garhwal English Medium School can provide even better education. We thank you from the bottom of our hearts because we know we are not alone in our quest to provide excellent education to the Jounpur children. All the best to each and every one of you. Thank you for all of your support. Merry Christmas and Happy New Year!
.
Please Donate!
If you would like to donate to our children's education, you will be giving a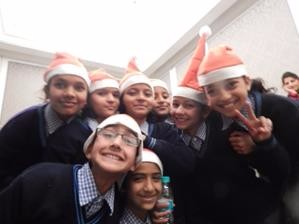 gift that keeps on giving. Please know that every dollar, rupee, pound…that we receive goes to running our school, which of course benefits all of our children in so many ways. Even the smallest amount goes far in helping. We are happy to answer questions, provide any information you require, and of course you are always welcome to come and see for yourselves how your donations are working.We accept paypal, e-mail money transfers and direct bank deposits. Please contact us if you have any queries regarding donations. And thank you again.