The Garhwal English Medium School is a not for profit, school for children living in the Garhwal region of Uttarkhand, India. Most children from this area come from extremely poor homes and all donations you send to us will help us help them realise and achieve their dreams. We are extremely transparent about where your funding goes to, for further information you can visit our transparency page. If you'd like to send us a donation please use the donation buttons below with the options to make a one time donation of any amount or setup a regular donation to the Garhwal English Medium School (Paypal account required). If you have further questions before you choose to donate or would like to send money via bank transfer then please contact us.
OR…
How your funding helps us
The magic school bus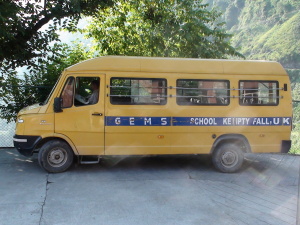 Every day our school bus makes 4 runs to pick children up who want to come to the Garhwal English Medium School School from villages all over the Juanpur area, 80% of our children wouldn't be able to make it to the Garhwal English Medium School if it wasn't for our school bus so it's maintenance is critical. Including petrol, insurance, a driver and maintenance it costs us over $500 a month to keep this service going. Our school bus is still too small, we can barely fit the amount of children we need to onto the school bus as is and we would also like to take children on school trips now and again but to do either of these things we would need to purchase a much larger vehicle.
---
School teachers and support staff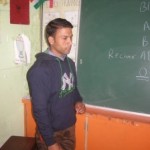 Our teachers and support staff at the Garhwal English Medium School are nothing short of wonderful. Unfortunately we cannot afford to pay them as much as we would like to and without a doubt many of them could find better paid work elsewhere, however, they believe in the work which we are doing here at the Garhwal English Medium School and work extremely hard to help our children make the most of the opportunities which they have. We rely on your donations to continue to pay our teachers and support staff, we also want to hire more teachers for our ever growing school.
---
School meals!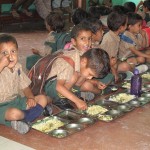 Lunch is perhaps the only nutritious meal of the day for most of our children, 80% of whom are below their height and growth percentile. Meals consist of lentils, rice and a vegetable. And in winter time we include jagari – which is a raw form of sugar and is very high in iron. The children love it. Lunch is currently funded by one of our corporate sponsors the Mars Group
---
School supplies
School books, School uniforms, medicine, chalk, pens, paper, workbooks, rules, erasers – the list goes on and it all adds up!
---
Other donation options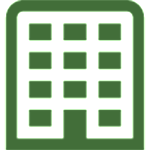 Are you a business looking to donate some of your profits to a good cause? Click here to find out more about our corporate donors.
The general sentiment among poor families in India is that one should not invest too heavily in a daughter because she will only get married and go to live with her husband's family. This perception is noted at Garhwal English Medium School . While we have 162 children enrolled in our school, only 51 are girls. We hope to increase this number to 100 girls over the next year. Help us make their dreams a reality by sponsoring a the Garhwal English Medium School girl who dreams of something more. Find out more about the the Garhwal English Medium School Sponsorship Programme.