the Garhwal English Medium School Newsletter 2013 – 2014
It is hard to believe that a year and a half has passed since our last letter, but it has. This letter is long over due, but nonetheless, better late than never.  This time around  we want to focus on all the blessings the Garhwal English Medium School has received and accomplishments we have  achieved.  Every NGO struggles to realize their dreams, and everyone must know this, but it is what we do with all the resources, funds, and support that people provide that tells the real story, so let s enlighten you as to what the Garhwal English Medium School has accomplished over the past 18 months.
British Council Sponsors a Partnership Between Oldfield Brow and the Garhwal English Medium School.
It all began with a phone call from a former volunteer from England named Charlie. "Lori, Charlie chirped on the phone to me from England, what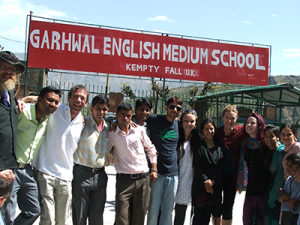 would you think of partnering with a school here in England?" I told her we would be delighted. The next thing I knew we were receiving e-mails and phone calls from Bob Merrell and two of his incredible teachers; Lynn Thornton and Liz Brash.  They arrived in early April.  Bob, Lynn and Liz arrived last April and brought with them an amazing amount of resources and for one week I believe they never slept. They arose each morning full of zest and excitement and spent the entire day in our school demonstrating resources, methods and even jumped in and modelled teaching techniques to our teachers. We sat through workshops; we learned new songs, games, activities – all with educational objectives behind them. I have never witnessed such a dynamic environment as when these dedicated teachers were with us. When they left, they left their energy behind and everyone at the Garhwal English Medium School was determined to use what we had learned in that short space of time.
The partnership between our two schools is meant to broaden children's understanding of how things are done in different cultures and how we each understand our relationship to the world. I can't think of a better way to do this. Thanks to Oldfield Brow, we are now equipped with two projectors which we can use to show our children videos and photos of different parts of the world. At the same time, with the use of internet we can share stories via blogs and e-mail new friends, share resources, ideas–the list is endless…
In February of the this year Kunwar and I flew to Oldfield Brow School in Manchester and spent one week visiting their classrooms and learning more skills and methods from their teachers.
To all the teachers at the Garhwal English Medium School,
We wanted to write to thank you all again for making us so welcome in your school during our visit last week. We had such an amazing time – and learned so much from you and your children at the Garhwal English Medium School, and are sure we will be better teachers as a result! The assembly that you did on our last day was fantastic, and made us not want to leave…  We nearly didn't get on the plane home! However, we are here now in cold, rainy Manchester – very depressing when compared to the beautiful place we left behind.We would love to hear from you with any questions about the work we did or requests for any resources that you think may be helpful to you or anything else you feel we may be able to help with. We would love to hear from you.  We very much look forward to coming over again soon, and catching up with you all.
Thanks again,
Lynne and Liz
the Garhwal English Medium School to Oldfield Brow.
It was a fantastic week. Kunwar and I spent the entire week visiting classrooms, interviewing teachers, observing teaching methods. We were treated like the  king and queen by all the staff and children. What a wonderful school and what a wonderful partner for our children at the Garhwal English Medium School. We brought with us Indian sweets and letters from our children to their pen pals at OFB. It didn't matter that we are half a world away, the letters were welcomed whole heartedly and the children had so many questions for their new friends.  We  returned to the Garhwal English Medium School with a whole sack of new letters to share with our students.



Teaching Techniques
Our focus at the Garhwal English Medium School has always been on creating a dynamic learning environment. In  the West this is a given in education, but here in India the focus has always on rote learning, a memorization method which is based on repetition. The theory is that a child will be able to quickly recall the meaning of the material the more they repeat it. Very few children do well in this type of learning environment without  a great deal of support,  so parents who can afford to, hire tutors  for about two hours each day to go over lessons with their children.  And if they cannot hire tutors, they themselves tutor their children.  So the real learning happens at home, not in the school.
Our children mostly come from homes where one or both parents are poorly educated or are illiterate, and they cannot afford to hire tutors, so there is no support system at home. Hence, our focus has to be on creating a dynamic learning environment which engages all children in their learning process.  This has not been easy as our teachers all come from schools where rote teaching was the norm.  It has been a challenge to convince them to break out of the mold, but the mold has been broken and the results are beginning to emerge. Yey!

I never knew that science could be fun and when our teacher brought a barometer into our classroom and told us we were going to make one, I didn't think I could do that. It looked too difficult. But our teacher showed us step by step how to do it and we each made one. It was so much fun, and it works!

Jitendra – class 7
Mother's Stories
We decided it would be very interesting for the children in class five, six and seven, as a grammar exercise in writing, to interview their mothers and write their mother's stories. I worked on this project with the help of Carelynn Loopstra, a volunteer  teacher from Canada, Paul Hamilton a retired teacher from Canada and also a volunteer and our lovely English/computer teacher – Rajneesh Kumar.  The children were hesitant at first, not knowing where to begin, or how to interview their mothers, but we gave them lots of tools and step by step instructions on how to go about this process, and the stories began to emerge. At first they were disjointed and disorganized, but this was such a great activity in helping the children organize their thoughts and write a good comprehensive story. At the same time the project became multi-discipline as they were learning new English words, using computer skills, and learning about their local history.  Soon the stories began to take shape and I have to say the children surpassed our expectations.  So much so, that we have decided to publish the stories on-line in a book format.  Here is a sample of one story written by 12 year old Digumber in class seven.

My Lovely Mother

Hello, I am Digmber Bartwal. I study in the seventh class. I am from Bhatoli Village, and I am going to tell you about my mother. My mother is 37 years old, and she was born in 1976. She was born in a village. When my mother was my age she didn't like to play, but she liked to work at home, cutting grass that they would feed to their animals, and taking wood from the jungle to make the fire at home. When my mother was my age she didn't know how to make roti (flat bread), but my grandmother taught her.
When my mother was my age she never went to school because the school was so far away. When she was young she didn't receive any education, because her family needed her to work at home. She was always happy in her life because her parents gave them all that they needed.

When my mother married she was 17 years old. My father's age was 24 years old. When my mother married my father he came by horse because at that time there were not any cars. When my mother visits other places she feels bad because she likes to stay at home. When she and her friends would to go in the jungle they played games with stones and then they cut grass for the animals, and when they came home they came very late and her parents would say, "Why do you come so late?" And her parents would always scold her.

My mother's favourite food is halva and puri and I like also halva and puri. Halva is made from barley and wheat and puri is made from flour and cooked in oil. My mother makes the best halva and puri. When my mother was young she knitted sweaters and the first sweater she knitted for me was long before I was born. My mother loves me so much. She said to me'' You can become anything and when we get sick then you can help us." Whenever I go somewhere my mother always worries.My mother told me, "When you're older sister was born there was no hospital and no facilities so your older sister was born at home and when your other sister was born there was the same problem; there was no hospital and when your third sister was born there was a hospital so she was born in the hospital." When I was born there was a hospital and facilities, but I was born at home. My mother was very happy when I was born. She said, "You were very naughty and I couldn't do any work."
My mother wears a gagara and khelka and I like to see her wearing this dress.

This is my mother's dream. She wants me to become an engineer.
And I will work hard to make her dream true. My mother says that if I become an engineer than in other places people will say that he is a very intelligent person because he has became an engineer. Thank you!

Digumber– class 7
Computers at the Garhwal English Medium School!
Last summer the Garhwal English Medium School received fifteen desktop computers courtesy of Mr. Narang, and to him we are so very, very grateful. At the same time Paul Hamilton, from Canada has donated 12 laptops to be used in classrooms. Not only did Paul refurbish the computers and send them to us, but he is donating his time for six months out of the year to help teach the teachers and children how to best utilize the computers.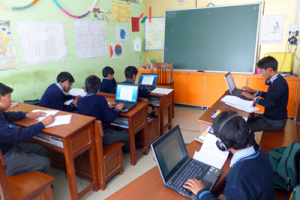 The use of computers helps our children in so many ways. Not only are they learning to use the computers, but they are also able to use them in conjunction with their other subjects. Grammar classes now spend a great deal of time typing stories and essays on Word, and the use of 'track changes', grammar check and spell check have helped our children considerably with their English. At the same time the children are now using 'Google and Wipikedia' to search for information on a host of subjects. Classes Kg to class 2 have E-learning three times a week. During these sessions children are using educational CDs for English, Math, Phonics, reading, social studies, science and many more subjects – all donated by many of you. We are also able to show films to the children on Saturday afternoons – this activity helps to broaden their imaginations. One of the first films we featured was 'The Wizard of Oz'. The children loved it!
Books for the Garhwal English Medium School!
We are very grateful to the Rotary Club from Revelstoke, British
Columbia, Canada who graciously donated funds in 2013 for us to purchase text books for our children. We are using the same books used in the best schools in India so our children have the same advantages as their better off counterparts. All books include practical exercises for children to help the children's understanding, suggestions on teaching methods for the teachers, and practice sheets at the end of each chapter. Thank you so much Rotary!
Throughout the year we have been given books by various individuals and groups, and this has greatly enhanced our library. For every class we have a library period whereby children choose a new book and must give a report each week on the book they have read. We encourage the children to read as much as they can, and have found many children are making great progress. Our library is growing which is really exciting. In fact it has grown so much that we need to find a larger space for our library!
Science day at the Garhwal English Medium School!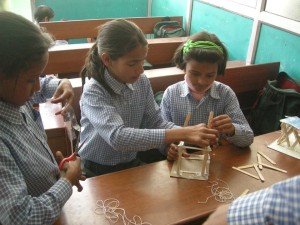 All Day Science Day! The challenge to our teachers was to come up with a science program that would keep students active and involved the whole day.  Teachers had to come up with a theme for their class, and the catch was that they had to use local resources, and the budget had to be minimal.  We thought it was a BIG challenge, but nothing is too BIG for our teachers. They came through with flying colours and all children were busy, engaged, and more importantly they were learning, learning, learning!
Nutritious Meals for the Garhwal English Medium School!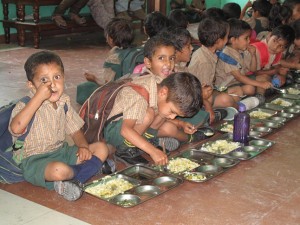 Thanks again to Mr. Narang, the Garhwal English Medium School children now enjoy nutritious lunches every day. This is perhaps the only nutritious meal of the day for most of our children, 80% of whom are below their height and growth percentile. Meals consist of lentils, rice and a vegetable. And in winter time we include jagari – which is a raw form of sugar and is very high in iron. The children love it.
Health Camps!
We are greatly indebted to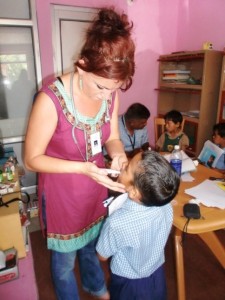 Bella Health Care and now to the Landour Community Hospital for their provision of bi-monthly health camps for our children and their families. Bella Health Care, under the direction of Colette Smith, has been providing services to the Garhwal English Medium School for the past two years, and we are always inspired by the dedication of their doctors, nurses and support staff. They arrive at 10:00 and do not stop until the last child has been seen. Every child is given individual attention and receives excellent health care. All medicine is provided for free. Bella Health care also provides health education and monitors our children's growth and weight. Thank you Bella Health Care!
Volunteers from Around the Globe!
Our volunteers have always been a vital part of the Garhwal English Medium School. While some are qualified teachers, others are not, but they come to us with a desire to help in whatever capacity they can. Everyone has skills they can share, and all one needs to help a child is a desire to share those skills. We have been so blessed once again with a wonderful group of volunteers over the past year. This year we welcomed Simon, Greg, Charlie, Andy, Flo, Catryn and Madleina from England, Daniel from the USA, Martha from Columbia, Diviyanshu and Ruhi from India, Carelynn and Paul from Canada, Nathalie from the Netherlands, Tom, Sanjay, and Will, James Katie from England, and Lisa from Canada. All of our volunteers have shared resources and teaching methods with our teachers. Ruhi, Martha, Charlie, and Carelynn, James and Katie were certified teachers who provided workshops and taught alongside our teachers, thus sharing their resources. Paul refurbished laptops in Canada and sent them over to us via various individuals, and now that he is in India he visit us regularly and helps us and our children with a host of learning resources via the laptops. All of our volunteers have helped in so many ways. They have assisted in classrooms, provided extra tuition, taught English as a Second Language, taught music, shared stories, and games, and sometimes filled in when we were short of teachers. Greg helped our children produce a video. Andy taught the children the music scale and several popular new songs (although 'Yellow Submarine' remains the favourite!) Carelynn helped our children create dramas, write stories, and engage in science projects. Nathalie produced a short documentary called, 'Kajal' featuring class 6 student, Kajal's life from morning until night time. Divyanshu held special tutoring sessions during the summer holidays, and after school. Charlie helped our children create quilts. Flo and Catrin hold the record for attending the most weddings ever in a three week period, and still managed to put on bright smiles everyday as they went about their tasks of helping the children in their studies. Daniel was brilliant with our children with learning disabilities – his patience and attention to these children was truly inspiring. Martha and Ruhi shared so many methods with our teachers at the Garhwal English Medium School, and inspired everyone to 'think outside of the box.' Everyone has been enthusiastic, generous and so very helpful, but more than anything they genuinely have wanted to help our students. Even after they leave they continue to provide assistance to the Garhwal English Medium School and act as ambassadors in their home countries. We love our volunteers and welcome anyone who wishes to help make our children's dreams come true.
Our Teachers
the Garhwal English Medium School teachers are special people. They work tirelessly and with little complaint every day. They are committed to our children. They care about their circumstances, their health, and how they are doing in their studies. Our teachers go above and beyond what a typical teacher in India does. Our teachers engage with our children. They create learning environments which make our children feel comfortable. They develop resources and teaching methods that are fun and entertaining for our children. And when a child is enjoying themselves they don't even realize that they are learning, and they learn far better this way than when someone is simply reciting and asking them to memorize – as is the typical form of teaching in India. A teaching day does not end when our children get on the bus. Our teachers go above and beyond. They visit our children's homes, talk with parents and give extra tutoring to children who need it. Our teachers take care of tummy aches and fevers, worry about children who are not dressed properly and scold parents for sending children to school dirty. They go out of their way to help the children create dramas and teach them songs and dances – often on their own time. Our teachers care about our children because many of them grew up in this area, and have a deep appreciation for the value of education. They know that by giving their best, the children in turn will strive to do their best.
Our Support Staff
At the same time we also have a wonderful support staff, two bus drivers, two guards, one cook and one cleaning lady. Everyone is a part of the the Garhwal English Medium School team and everyone works together to create a safe and friendly environment for our children to learn in. We are a family, a the Garhwal English Medium School family and we care about each other. Many of our staff have children and/or relatives in the school. Jaunpur is a tight knit community and what happens to one family affects everyone. We could not ask for a better environment in which to educate our children. Thank you to all our teachers and staff!
New Uniforms for the Garhwal English Medium School!
Thanks to all our supporters we have managed to outfit almost all of our the Garhwal English Medium School students. A few parents were able to purchase their children's uniforms, but about 80% of our families could not manage this, so with the help of our current volunteers, Katie and James from England we launched a fundraiser over the internet – The $10 Buys a School Uniform Campaign and the response was amazing. Now all of our little the Garhwal English Medium School are looking very smart in their new summer attire.
Special Mention:
This year we have benefited a great deal from the generosity of so many individuals, but a few have given significant donations to the Garhwal English Medium School without ever laying eyes on our school. The contributions these individuals have made have helped the Garhwal English Medium School to pay our staff salaries; to purchase fuel for our bus; to pay the insurance on the bus and the maintenance; so we can transport our children to and from school safely; to provide a nutritious meal; to purchase books and stationary for our children…. the costs are endless, but a very necessary component to running a school such as ours. I will not reveal the names, but you know who you are and you have our hearts in your hands. Thank you!
Ways to contribute
There are many ways you can help us at the Garhwal English Medium School. You can make a simple donation of any amount. Even $10 goes far in helping a child with their education, but here are some ideas for funding:
1. $35.00 a month will sponsor a child for their education, covering books, uniforms, bus fare, teacher salary, and operation costs. Or you can make a one time donation of $300.00 per year. We have 9 children sponsored so far. Our goal is to have all of our children sponsored so we can focus on building up our resources and move forward in delivering quality education.
2. Sponsor a teacher for $250.00 month. Or you can contribute to their salary. Teachers are our most precious asset and we would like to reward them for their hard work with good salaries. Believe it or not, $250.00 a month is a good salary in India.
3. Conduct an Online fundraiser for our school. It is easy and if you would like to do this or even host a fundraiser of your own choosing we will be happy to provide information, photos and ideas on what to fund raise for.
4. Sponsor a Classroom You would be paying for the teacher's salary, children's education costs, school supplies, teaching resources. This may appeal to a group of individuals or a business wishing to make a charitable donation for the purpose of tax breaks.
5. Contribute books for our library, or educational Cds for our computers. Knowledge is the greatest gift you can give a child. We never refuse educational materials especially in the form of books. We are trying to build our library. All contributions are welcome!
6. Give of your time! You can do this either as a volunteer at our school, or from home. You can help us in many ways, but sourcing out potential funders, writing funding proposals for us, or running on-line or off- line fundraisers for the school.
7. Just make a donation of any amount, at any time. All donations are graciously accepted and 100% goes towards educating our children.
All donations can be sent via paypal using lmcfadyen2008@gmail.com as the account number. If you prefer direct banking options you can contact us at the same e-mail address, and we will provide banking details.