Volunteer at the Garhwal English Medium School
Prospective volunteers
We are in need of volunteers, who are passionate about teaching and who have a desire to help our children reach their full potential. If you are a certified teacher, health care provider, ESL certified, have any skills that can benefit our children, or just simply want to come to help out, we would love for you to join our cause and become a part of the positive change taking place in our childrens' lives. We believe that everyone who comes has something to contribute and impart on the children and the village.
If you choose to stay with us, we will do our best to make you comfortable . We can guarantee your stay here will be both memorable and rewarding. Our volunteers always leave here with a close attachment to our children and the school. The friendships you develop will last a lifetime. You will be welcomed back time and time again, and you will take away life experiences that cannot be taught in academia only learned through living alongside, and engaging in everyday village life.
How will I be helping out?
Volunteers who are teachers are encouraged to share their teaching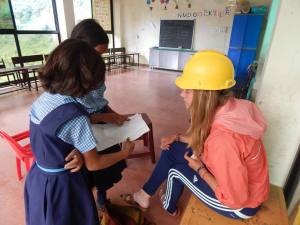 methods with our teachers. In India the system for teaching is very rigid, and at the Garhwal English Medium School we want to break out of that mold. We find that our children learn better through activity based learning, but as our teachers are unfamiliar with such methods, it is to their benefit when volunteers share their ideas and methods with them. In addition we ask foreign teachers to lead classes whereby they can best demonstrate their teaching methods, or simply provide special classes to our children. All volunteers are encouraged to assist in classrooms, share any suggestions, as well as help with extra curricular activities.
Past experience has shown us that there are many individuals who may not be qualified teachers, but who are teachers at heart. If that is you, and you are proficient in English, have skills to share, and have a desire to teach, then we would be happy to invite you into our school to share your skills with our children. Many volunteers are given classes to actively teach, this is especially true for those who make a longer commitment to the project.
In addition to volunteers for our school, we are currently searching for volunteers to write and send out funding proposals, and engage in fund raising activities. Preferably, the work should be done from our school so you can see first hand the work we are engaging in. However, if you are skilled in fund raising, writing proposals and in soliciting funds for charity, you could work from anywhere in the world.
Where will I be living?
If you choose to stay with us you will have an opportunity to immerse yourself in a very unique, rural culture. Our quaint, tribal village (Sainji) is set amongst the beautiful terraced foothills of the Himalayas.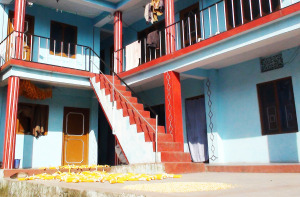 Volunteers are encouraged to take part in village activities. If you happen to arrive during wedding season (October to March) you are in for a very entertaining cultural experience. Villagers are shy, but very hospitable, and once they get to know you, you will have friends for life. If you are interested, you can take part in the agricultural practices, or accompany the young people when they go to collect fodder or fire wood. Or you may just wish to sit and enjoy a cup of chai and take in the village life going on about you.
However you choose to engage yourself, you will not be bored. There is much to learn about this ancient culture, and many of the ancient agricultural as well as cultural practices are still in place. The volunteer experience can become as much of a learning experience for you as it is for those that you teach.
How much does it cost?
Costs are $350.00 US for one month, $250.00 US for the second month and $150.00 for each month thereafter. Funds for your stay must be paid in full before you come or by the first of each month. We do not issue refunds.
We wish we could offer free accommodation and food to our volunteers, but unfortunately we are not in a position to do this. We have a very large school to support and 200 children to educate, clothe, and feed every day.
However, anyone who is able to fund raise a minimum of $1500.00 for the Garhwal English Medium School before arriving will receive FREE room and board.
What can I expect in exchange for my services and fees?
Room and board in our family home in Sainji.
2 delicious and hearty vegetarian meals in our home per day (lunch is served at the school).
Laundry service (except for socks and underwear).
Tea, coffee, fruit, and biscuits (snacks).
Clean linens upon request.
Hot water for bathing.
One trip to Mussoorie each week for shopping and site seeing.
Pick up and drop off in Mussoorie on arrival and departure.
Visits to other villages in the area.
Opportunities to take part in village weddings and cultural events.
Internet access in our home for emergencies and limited internet access at school. (You may use the Internet at the school for short periods when the teachers are not using it. Otherwise, you can purchase a USB stick in Mussoorie for 2,000 Rs (or $30.00) and 200 Rs per month ($3.00) to use with your laptop.)
Local treks and/or walks in the area.
Hindi lessons are available from teachers outside of school for a small fee to be paid directly to the teacher (which you may negotiate with them).
How do I travel to Sainji/school?
Volunteers are expected to find their own way to Mussoorie. We will happily provide you that information if requested. We will pick you up in Mussoorie and bring you to the village of Sainji. We will give you a lift from Sainji to school every morning, you can choose to walk back to Sainji from school at the end of the day or catch our magic school bus!
What else is expected of me?
We ask you to respect the ways of the villagers and to behave in a responsible manner. We have a strict policy against drinking and taking drugs. Neither will be tolerated and offenders will be asked to leave immediately. We also request smokers to refrain from their habit (this is a great time to quit). Our young people do not smoke and we would like to keep it that way. Volunteers become influential in the lives of our children, please be cognizant of the impacts you impart. Outside of the village you are responsible for paying for your own meals and or snacks. Your accommodations will be very simple, but clean and comfortable. You are responsible for washing your own personal items and underwear, cleaning your room, and toilet.
Our home consists of two small rooms, and we are very busy people with our school and other projects, so we ask that you respect our need for private time. Private time begins after returning from school until 7:00 pm in the evening and after 9:00 pm until 7:00 am (summer months) or 8:00 am (winter months). Please also respect our property, and treat our things with care.
How should I dress?
Dress in the village is conservative, but you should be comfortable. Women should not expose cleavage, shoulders, or leg (above the knee). Men should not wear low-rise pants, or muscle shirts. T-shirts and long cotton pants are acceptable. We want you to be
comfortable, so cotton and light colours are best. The village gets very hot during summer months and there is no air conditioning. Women visitors in the past have bought Punjabi suits to wear in the village. These can be purchased and tailored for as little as $12.00. Most of the young girls and women wear these so they are the most appropriate and practical clothes for the village.
Almost everywhere you go by foot will require decent walking shoes – trekking shoes are best. All of the trails around the village are rough and rocky. Take care, and bring appropriate footwear.
How am I expected to behave with the villagers?
Volunteers should regard the entire village as the home or living room of the villagers, to which they have been invited into. They should refrain from loud or boisterous behaviour, use of foul language, and conduct themselves politely and with respect for the villagers.
While we encourage our volunteers to develop friendships in the village, it must be understood that it is not acceptable for foreigners to go for walks with, or to entertain in their room a member of the opposite sex without the accompaniment of other volunteers or villagers. Suspicion of romantic relations can result in a volunteer being evicted from the village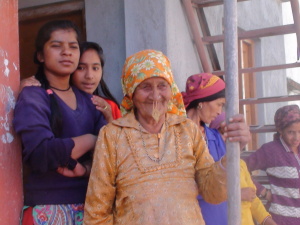 by the villagers themselves, and can have disastrous repercussions for our NGO, and possibly future volunteers.
At the same time, we ask that you refrain from inviting villagers into your room. There is ample space outside for you to gather and become acquainted. You must understand that you appear very wealthy to the villagers, and it may be too tempting for some to see all the luxuries you have. Be careful. Never leave your personal items unattended. We ask you to lock your valuables inside your room when you go out. Also, please keep an eye on your laundry, and collect it from the line as soon as it is dry. We are not responsible for any lost or stolen goods. One suggestion is to leave unnecessary gadgets at home (with the exception of your camera, computer and phone). You will have much less to worry about.
What should I pack to bring with me?
Personal hygiene items (shampoos, soaps, creams are also available in Mussoorie)
Cotton pants, t-shirts (light colours, light weight fabric)
Walking sandals
For winter, fleece jacket, long underwear, warm sweaters, pants, pajamas, wool socks, mittens, hats (there is no central heating and the power goes out often)
Trekking shoes
Bug spray
Malaria medication (although most brands are available in India for a fraction of the cost)
Motion sickness tablets
Flash light
Comfort foods for snacks, etc., but you can also buy many of these things in Mussoorie.
Journal
Camera
Notebook
Sleeping bag
Water bottle
Water purifying tablets for when you are outside the village (GSE works well, but is expensive — available in health food stores in Canada and USA)
Country pins are a nice gift to hand out (visit your local MP, and they should provide you with these for free)
For those interested in trekking nearby:
Winter and overnight trek equipment
Fleece jacket, sweater, waterproof jacket, wool socks, mitts, hat (i.e. Goumukh trek is very cold!)
Good trekking backpack
Warm, lightweight sleeping bag (good to -20)
What else I can bring that would help out?
School supplies (pencils, erasers, stickers, crayons, sharpeners, etc.)
Hindi/English dictionaries
Educational games (dominoes, playing cards, dice, monopoly, scrabble, etc.)
Story books.
Children's movies.
Teaching aids — flash cards, letter blocks, number lines, ESL games, puppets, pocket charts, globes, atlases, etc.
Used lap tops (in working order)
Children's vitamins (chewable are best)
Toothbrushes/toothpaste.
Band-aides.
Donations to our scholarship fund for the children (all children are poor and they require funds to help them after grade 12 to go on to university).
Donations for our operating costs.
Underwear for children.
Any children's clothing — all sizes, especially warm clothes for winter.
Photos of your home or countries you have visited.
Other questions?
If you have any other questions please feel free to contact us. We would happily provide you with any information you require before coming here or while making your decision whether or not you want to join us at the Garhwal English Medium School or Sainji Village!