Want to find out a little bit more about what it's like to be a volunteer at the Garhwal English Medium School? Read about some of our previous volunteers experiences below…
Christiane Höggerl, Austria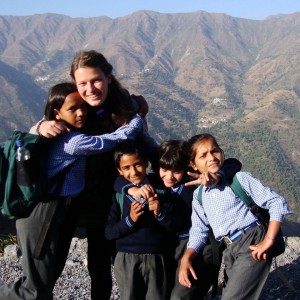 Hi, my name is Christiane and I´m from Austria. I was living in Sainji for almost 2 months and enjoyed life in this little mountain village a lot. I did not feel like a tourist, but more like a member of a community.
At the Garhwal English Medium School I was teaching English Literature to classes 4-8. It was a big challenge because I had not been teaching before, but it was a precious experience, I learned a lot myself. The kids are awesome, although not always easy to handle however, you will find your own ways how to cope with them and you can always talk to the other volunteers about their experiences and of course, also to Lori. Additionally, the different English levels within one class are challenging, so if there are enough volunteers it is always great if you can split the class into 2 groups.
After school I often played with the village kids, had a chat with other volunteers, went for a little walk or just stayed in my room to read and relax. During weekends I went to nearby Mussoorie for shopping or stayed in the village and went for a longer hike with other volunteers – but please never do it by yourself! Lori and Kunwar were very caring and always took us with them when they drove somewhere, like Mussoorie, Rishikesh, weddings in other villages, etc.
Breakfast and dinner you will have with the other volunteers at Lori´s place. In fact, the food was always delicious and now back at home I already miss it. Lunch will be served at the school.
Saying goodbye after 2 months was really hard for me, I enjoyed my time in Sainji a lot and I miss these lovely children already. I am very grateful for this experience and also for meeting many interesting people, like those who I admire for their strength, their willingness to share and for putting other people´s needs first. I learned a lot from them too.
Louis-Philippe Tessier, Montreal PQ, CANADA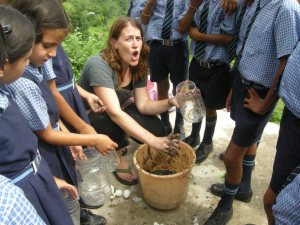 I stayed in Sainji for a whole month and I can now say that the life I experienced in this small, rural village has changed the ways that I approach life today. This might seem a cliché thing to say; I agree. But it is nonetheless true. The kindness of the people there, the way they smile to you when you play with their children, the knowledge that you gain from practical work in the fields with one of the women, the mutiple games of «pitù» that I played with Akshay, Sudesh, Aman, and the other kids have all impacted me in a meaningful way.
Eryn Yaromy, Vancouver Island,  British Columbia, CANADA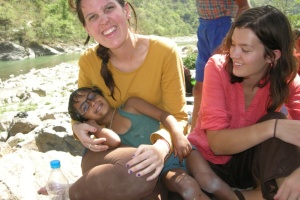 When a former high school teacher of mine told me about the work her friend Lori was doing in India, I knew it was exactly the kind of thing I had always wanted to be a part of – I put it on my (long) list of travel experiences I wanted to acquire, but knew that it would probably be a while before I was financially able to do it.  Not long after my meeting with that teacher, I was speaking with my good friend Nathan who said "Eryn, I need to get out of here this summer, go somewhere and do something drastically different" and I told him "I know what we can do!"  And so began our planning and saving for our trip to Sainji. We spent most of the month of June 2011 with the the Garhwal English Medium School, and it truly is a time I will never forget.  The village and themountains surrounding it are beautiful.  Granted, the first few days driving along the treacherous roads through the mountains, constantly just inches from the side of a cliff, were definitely unnerving; but by the end of our few weeks, Nathan and I were happily climbing on top of Lori and Kunwar's jeep in order to make more room for the many kids they always willingly pick up and drop off.
We experienced some beautiful and heart wrenching moments; from watching a sort of funeral procession for one of the elderly women of the village, the village women wailing in the distance, to having the the Garhwal English Medium School themselves sing and dance for us.  I found myself constantly moved (often close to tears!) by the beauty of the culture and my luck in being able to witness some part of it. The kids are amazing and have such enthusiasm for learning.  We spent the month talking, laughing, and exchanging songs and games.  I will never forget sitting on Lori and Kunwar's porch, sipping their delicious chai and having impromptu spelling contests or math challenges with some of the older kids: Aman, Akshay, Sudesh, Ameesha, Nikhil.  Such bright and spirited kids.  Or having a henna day with some of the village girls – I came home to BC with the beautiful markings still covering my arm, and I wore them with pride and an aching sense of nostalgia. You'll be hard-pressed to find two more generous and selfless souls than Lori and Kunwar.
They always made us feel very much at home, took us to see other beautiful parts of the area, and always made sure we had everything we needed to be as comfortable as possible.  I loved coming back to the house after the school day and having "adult time" with Lori and Nathan.  We had some fascinating chats and lots of laughs… sometimes at poor Kunwar's expense!  They are such beautiful and good-humoured people, even with a daunting task such as theirs. Again, this was an experience unlike any other I've had.  The fondness I hold for my hosts, the area, and – above all – the kids, will never leave me.  I hope to return, and I can not wait to see how the kids have grown and changed; I can only hope that they remember me as well!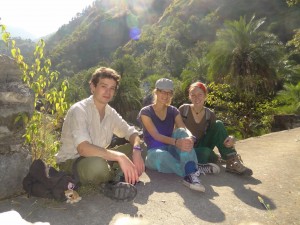 Working for the Garhwal English Medium School was probably the most rewarding thing I've ever done in my life.
Monday to Saturday I was teaching history and IT classes to students from class 4 to class 9, I hadn't any previous experience as a teacher and initially this was a little daunting but I had Lori and the other teachers full confidence and support and got into the rythmn of things fairly quickly.
The children are wonderful, they are keen to learn new things and are always keen to play with you and speak with you after school. Having left the school now I miss them every day. They are absolute rascals.
I had my own room during my time there which was plenty comfortable and right in the village so I got to know my neighbours and really felt like I was part of the community. I had breakfast and dinner at Lori and Kunwars (lunch at school) and it was the tastiest food I've ever eaten, Lori also makes the perfect coffee – hot and strong! There were always opportunities to go out into Mussoorie or go anywhere Kunwar was off to that day and I very much enjoyed these adventures! Lori and Kunwar's hospitality is unmatched.
The area itself is so beautiful it's unreal, the step-style farming technique on the mountains gives it a really unique look and I often had to look around and just laugh because I couldn't believe how incredible the place I was living was. After school and on the weekends I loved going hiking (always with another volunteer..) and seeing what there was to see in the area – you can spot all sorts of awesome plants and animals there, Langour and Rhesus monkeys, mongooses, parrots, giant vultures – I never saw a big cat which I suppose is a blessing in disguise..
Katie and James, United Kingdom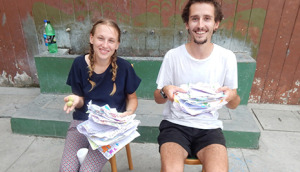 Katie and I spent 3 months living in Sainji and volunteering at the Garhwal English Medium School with Lori and Kunwar and it was the absolute highlight of our 6-month trip to Nepal and India. We're both from teaching backgrounds and were placed full-time into the classrooms with the wonderful students and friendly staff. Volunteers receive 3 meals a day, a hearty breakfast, a simple lunch at the school and then dinner prepared at Lori and Kunwar's house (the highlight of my day). The lodgings are simple mountain-style rooms, but they are clean, spacious, comfortable and safe, and we actually got quite attached to our little home-away-from-home in the mountains. We were made to feel completely at home in the village and the school from the get go.
We actually had 2 volunteer experiences in India, the other only lasting for 1 day (a different story altogether) however it highlighted to us how well Lori and Kunwar look after their volunteers and always have their best interests at heart. As a surprise thank you for our time and hard work, towards the end of our time at the Garhwal English Medium School, Kunwar decided to take us on a day-trip to Yamunotri, one of four of the most important religious sites in India. This is not a journey that many foreign tourists make and it was another of the highlights of our trip and such a kind and unexpected gesture which made us and our work feel appreciated.
We must say that this volunteer project isn't for lazy people, teachers aren't usually lazy, but if you are expecting to dip in and out of classes/ lessons and not 'get your hands dirty', so to speak, then this isn't the volunteer project for you. The school is charity funded and, unfortunately, slightly understaffed, therefore volunteers will be working between the hours of 8AM-2PM. Depending on the type of person you are or the kind of trip you are planning, this could be seen as a positive or negative. We took it as a positive because we wanted to find a volunteer project which needed our help, and where we felt that we could make a genuine and lasting difference (i.e. we weren't looking to laze around a farm all day). If you are hardworking and looking for a genuine and meaningful project in India, this is definitely the project for you. It is also worth mentioning that if you are not a teacher, Lori will happily find you alternative work or projects that can benefit the school and the children (we had some friends come along and build a greenhouse/ hothouse from bamboo as a science experiment).
Leaving Sainji and all of our new friends was very difficult but we couldn't have been happier with our time spent there and couldn't have found a volunteer project that was more suited to us. We left India feeling content and satisfied that our trip was purposeful and meaningful. We are now back in the UK but we know that we will one day be returning to the Garhwal English Medium School to see Lori and Kunwar and all of the incredible children who make that small village in the foothills of the Himalayas such a special place.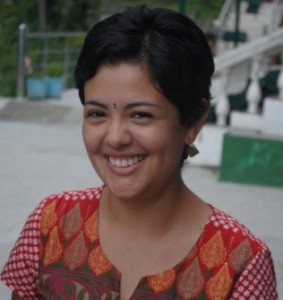 I was really really lucky to find this place, I didn't expect so many good things: great people and school, beautiful village and landscape, lovely mountains… I don't know where to start, there are so many things to say…
Let's start with Lori. I think I had never met someone so committed to a social cause. Her job doesn't stop when the school finishes… If someone is sick in Sainji, he goes to Lori's place. She comes up with interesting ideas to help the community like handmade dolls or organic soap to fund the school. Always trying to learn and get new innovative teaching ideas and share them with with the teachers. She has lots of stories to share; we could spend hours talking about the kids and her experience in India. Lori and Kunwar treated me like part of the family and provided an excellent place to stay, very good food and off course great company. We went often to Mussorie and have lunch or dinner in nice places. I never felt like a stranger.
Sainji is a small village but very beautiful and I never got bored. There are a lot of kids playing all the time, that makes it very animated. The kids are really cool and friendly. I was surprised by their English level, you can talk with them without problems. And they are always ready to show you nice spots, walk with you and give you some fruits that they pick up on the way and off course always ready to play anything and be on the pictures.
If you go during Monsoon, you can also help them in the rice planting and have a mod fight! Rice fields are so beautiful… Or you can go to the other villages (the kids will show you, they are experienced guides) or help the girls making the dolls or just enjoy the mountains and the night, some days sky is full of stars and fireflies.
At school the kids participate a lot and are motivated in general so the ambiance is very nice, you can have a lot of fun with them, they get so excited when you make them games. The teachers are also nice, we went several times to Kempty fall (the closest village, a tourist place) and enjoy the different activities, since they are locals and teachers in the Garhwal English Medium School people never let us pay… The school has many volunteers coming often so you probably will have nice company 😉
As you see I totally recommend this place!
I had an unforgettable and amazing experience helping here and living in Sainji village. When I first contacted Lori I said I'd stay 3 maybe 4 weeks…9 weeks later I sadly made my good-byes to everyone.
The day I arrived and stepped foot in Sainji I was very excited to finally have the opportunity to live in a rural village, and learn about the lifestyle of the tribal Indian people around me. Lori and Kunwar are some of the most kind hearted and giving people I have met. They have somehow managed to support a school of 230 children. They not only supply everything for the Garhwal English Medium School but also medical needs as well. The holistic approach they take carries into Sainji village as well. Lori and Kunwar genuinely care about every person they interact with and are always giving of their time, spirit and material items. I feel fortunate to have had the opportunity to help these two beautiful people.
the Garhwal English Medium School…I spent my first 4 weeks helping the kindergarten teacher. Helping this teacher at times was a big challenge for me because I wasn't sure how much she understood of why I am bringing in western methods of teaching, she has no training, okay English and uses rote teaching. At times I got very frustrated which is a given because I can't change anyone and change takes time. I know she is doing her best to come up with ideas for her class that include all students and are more activity based. She is also open to improving her English. So, if you go ask her if she wants to talk and make a time…she is a bit shy like all the women in the village. I spent about 4 weeks helping the nursery teacher, her students are around four years old. She was very open to new ideas and took the ideas I had and used most of them. We created center time in her class, library area, writing area, sensory table, etc. I also spent a week helping Lori with random activities during a week break we had. For example, packing lots of soap. She is in the process of selling soap to fund her school and all of it needed packing!
After school I always hung out with a few of the girls in the village doing different activities such as bracelet making, creating corn husk dolls (which the whole school did on my last day), homework help, drawing, playing games and sometimes just talking.
I had a wonderful time learning about Lori, Kunwar, all the kids and teachers. Everyone was friendly and kind hearted. One day I will go back and visit them for sure!
If you have a month or more to spare I highly recommend going out and meeting everyone in Sainji and the Garhwal English Medium School!!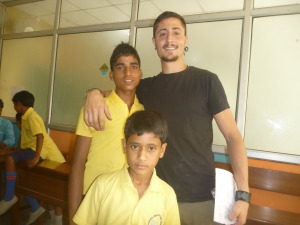 My time here in Sainji was nothing short of amazing. From life in the village, to the volunteering at G.E.M.S, my experience here was humbling, and made me proud to have made a difference in this remote, beautiful part of the world.