Kunwar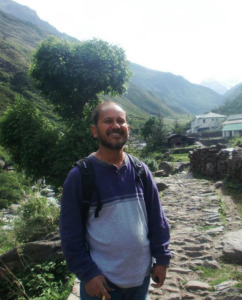 Kunwar was born and raised in the small village of Sainji, where our NGO is based. He was just five years old when his father passed away from Tuberculosis.  He was one of four brothers. Life was tough. His mother had to work in the fields everyday to ensure that no one would take her land away from her(her only means of supporting her family). Kunwar's family, like other villagers were extremely poor. The average life expectancy at the time (early 1960s) was about 50 years of age, and child mortality was extremely high. Kunwar remembers having no shoes to wear, and having to walk several kilometers to attend the only school in the area. When he was ten years of age his uncle-grandfather (Kanhaiya Singh Chauhan) who was living in Delhi at the time, selected Kunwar, who had just completed his fifth standard, to join him in Delhi where he would sponsor him for higher education. Kunwar recalls the day he went to Delhi with his uncle, 'I didn't even have shoes to wear on the train. I went barefoot.'
Khanaiya supported Kunwar until he had secured his Bachelor of Commerce from Delhi University, but all along he kept reminding Kunwar that he should never forget his village. But Kunwar never did. He looked forward to summers and holidays when he would join his mother and three brothers back in Sainji.  But his uncle's wish resonated with Kunwar who, after completing university, returned to Sainji in the early 1980s.
Shortly after returning to Sainji, Kunwar met  Dr. Olsen and his team, who were trying to bring medical camps into the Jaunpur area, and were being met with a great deal of resistance from the villagers. Kunwar immediately recognized the benefits that Dr. Olsen's team could bring to the villagers and began acting as a liaison between the medical team and the villagers. At the time infant and child mortality rates were high. Through the immunizations and health education programs, people in the villages benefited tremendously, and thus began a very long relationship between Kunwar and the Olsens that continues to this day.
In addition to the medical camps, one of the first initiatives Kunwar took on when he returned to Sainji was to build a one and half kilometer length of road connecting Sainji with the main road above the village. At the time village men were making the long daily trek by foot to Mussoorie  to sell their milk, which brought little profit. Kunwar encouraged the villagers to make use of the road by loading their milk onto one jeep which would transport their milk for them to the nearby market in Mussoorie, thus freeing the men to earn income through other employment. Not long after the villagers elected Kunwar to be their Pradhan (village head man).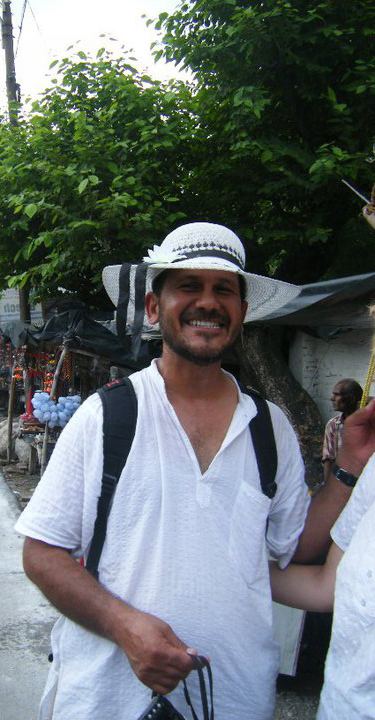 Kunwar was quick to set about making positive changes for the villagers.  Seeing that children had to travel four kilometers to the village to Battoli to attend school, Kunwar began appealing to the government to build a school in Sainji. In fact, for two years he taught the children himself until the government school was opened. Afterwards, he oversaw the school, took teachers attendance and made sure children were getting a good education – at least until the teachers union gained strength and won the fight to not have to live in the villages. With no superintendents willing to travel to the schools in the hill areas to inspect the situation, it was not long before the teachers' attendance began to slide, school hours to be shortened, and the quality of education to falter.  As he watched this happen Kunwar took action and invited a Missionary run NGO to start up a school in Sainji, thus ensuring that at least Sainji children would have a better education than what the government school was offering.
During this time, he also facilitated the delivery of piped water to the village as at the time there was no safe drinking water and people regularly suffered from water born diseases. At the same time, he recognized that alcoholism was playing havoc on peoples' lives. There were too many widows in the village, their husbands having succumbed to deaths related to alcoholism.  And so after holding a meeting and gaining support from the majority of the villagers Sainji became alcohol free, and remained that way for the duration of his pradhanship.
At the same time he began inviting various Non Government Organizations to the area.  For the past 25 years he has worked with these NGOs to bring about positive development changes for the villagers. Today these changes are evident. Along with the irrigation system built by his grand-uncle, the villagers have also quickly adapted to better farming techniques such as transplantation of rice crops which provide a better crop yield. Other positive changes  include, the provision of water collection tanks, composting, introduction of new crops, and even some experimentation in bee keeping and the use of solar energy as an alternative power source. Perhaps most significant was in the early 1980s when he acted as mediator between villagers and health care workers who wanted to provide health care to the villagers. There were many epidemics such as measles, dysentery, and tuberculosis in the region. The villagers were suspicious of the intentions of the medical outsiders, and did not want to cooperate with them. Kunwar was able to convince the villagers that the medical team meant no harm, but instead would help them. Through his assistance the medical team was able to introduce vaccinations which resulted in a significant drop in child mortality rates. The team went on to offer basic health care, family planning, and hygiene and health  awareness programs. Two women from every village were selected and trained as community health workers. He was also instrumental in working with an NGO to bring toilets, piped water, and proper sewage disposal to all but 12 households in the village. Today, every household has electricity. The hygiene of the village is better than in most villages throughout the region. Animals that once occupied the bottom floors of the houses are now relegated to the village perimeter. The village paths and local squares have been paved, and he is diligent in educating the new generation of children about the importance of keeping the village clean.
Kunwar's ability to evoke positive changes did not go unrecognized. For 14 years he was Pradhan over 7 villages, and then Zilat Panchyat member for 50 villages of Jaunpur Block. Even though it has been six years since he held this post (now allocated to a female representative), he is still greeted by villagers throughout the area, as 'Pradhan Ji' (respectful address), and is shown the greatest respect and hospitality.
Lori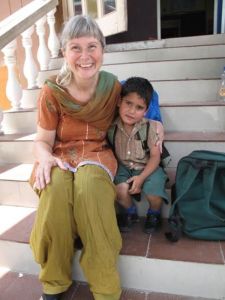 Lori Chauhan (nee McFadyen) is a Canadian and had been coming to India for ten years before settling there permanently. She first arrived in 1998 as part of a field school. During that six week stay, she developed a concern for the many children she saw working in informal industries or who were living on the streets. A year later she returned with some friends to learn more about the plight of underprivileged children. She and her friends established a NGO in Canada called, 'Children Go to School' whose mission was to ensure education for all children. Over the course of the year she and her cohorts raised enough funds to start a school in a slum area of Gurgoan, outside of New Delhi. While in India, Lori continued to educate herself about children and poverty, and visited many industries employing children, such as the brick kilns, carpet and silk weaving industries, bangle factories, etc. Every summer for four years she traveled back to India to learn more about the plight of children, and to oversee the progress of the school initiative, which by the end of four years offered education to 50 children and employed two teachers. When she began her masters' degree she decided it was necessary to gain a better understanding of why so many children opted to live on the streets, rather than remain with their parents. Hence, for six months she volunteered with the Salaam Baalak Trust Organization for Street Children in Delhi and every day interacted with the street children living at the New Delhi Railway station, and at Hanuman Mandir. Her MA thesis was later published in 2005, entitled 'Voices From the Street: An Ethnography of India's Street Children'. It was from this body of research that Lori's interest in the lives of village children grew. She questioned, 'why and how so many children from the villages could have the courage or the need to abandon their families and leave home, especially when some were as young as six years of age when they fled.' It seemed to her that an investigation into the lives and family relationships within the village context was warranted. In 2006 she returned to India to begin her language training at the Landour Language School in Mussoorie for her PhD, and to search for an appropriate village to conduct her study. It did not take long. After visiting many of the Jaunpur villages in the region with a local Medical NGO, she quickly decided that given the poverty and harsh living conditions of the villages in Jaunpur, this was the most appropriate area to carry out the study. In the fall of 2007 she moved to the village of Kolti, a one and a half hours' walk down the mountain from Mussoorie.
While in Kolti, the needs of the people became immediately apparent to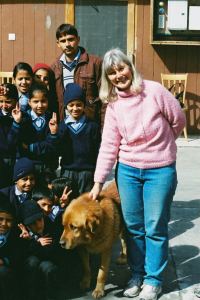 Lori. With no road, the villagers were depending on subsistence farming, supplemented by the money earned from selling milk to Mussoorie – milk that was carried up the mountain by mule or on the backs of village men.  People were struggling to make ends meet, and basic nutrition and hygiene were sadly lacking. Health care was non existent. During her time in Kolti, Lori began providing medical assistance and nutritious meals to a lady suffering from Tuberculosis. She also set up a play center for the children in her own home, where she was able to provide education on proper hygiene and offer nutritious snacks. Her house became an informal health clinic as villagers regularly came asking for simple medicines for cuts, burns, and fevers. She regularly convinced the sick to go to the hospital for help, and accompanied many of them on the journey to give them moral, and often financial support. Over time, she learned that many of the older girls in the village had been pulled out of school after the second or third class to help their mothers with household work. With money donated by a friend, she purchased 4 sewing machines and began offering sewing classes to these young women in the evening so they would have some way of earning money for themselves after marriage. At the same time, she noticed that despite the onset of cold weather the children were still running about with no shoes and did not have any warm clothing to wear. After writing a letter to her family asking that in lieu of Christmas gifts, they send money for shoes and sweaters for the village children, her family and friends sprung into action and raised over $2,000.00. There were enough funds to purchase shoes and jackets for every child in three villages, as well as shoes for the ladies of Kolti.
It was about this time that we met. Kunwar came to Kolti to help deliver the shoes and jackets. From this time we began discussing our common goals and interests and found that we both shared a common passion for the villagers, and a similar commitment to bringing about positive changes. We were married in June of 2008, and together we have created a NGO called the Garhwal Organization for Uplifting the Needy, GOUN (meaning 'village'). Our organization tries to provide opportunities for villagers to improve their lives. To date we have created a doll making project that provides young women with extra income so they can purchase extra school supplies, personal items or even resources for single mothers to support their young children. We are in the process of developing a soap making project as a means to create jobs for local youth in the village. However, our biggest and most ambitious project to date has been the development of the 'Garhwal English Medium School', The school began with just 9 students and within one year grew to include 86. Less than three years later the school has grown to include 230 children, aged 3 to 12 years of age and classes from playgroup to class 6. The school curriculum includes; English Literature, English Grammar, English as a Second Language, Hindi, Math, Mental Math, Social Studies, Science, Arts and Crafts and Physical Education.